2020 Challenge Top Team: Well-being Elevated has been selected to receive $500,000 from Schmidt Futures to further develop its program addressing mental health disparities on college campuses.
WHY THE AMERICAN DREAM IDEAS CHALLENGE?
There is wide consensus that the path to opportunity and prosperity in America has eroded over the past 50 years, as evidenced by a decline in the share of middle-class households. Consider this: 40 percent of U.S. households cannot afford an emergency expense of $400. The Alliance for the American Dream, an initiative of Schmidt Futures, believes a healthier and more robust middle class will reduce income disparity and ensure upward economic mobility, enhancing opportunities for more Americans, and increasing our country's competitiveness.
With this goal in mind, the University of Utah's American Dream Ideas Challenge seeks to fund the most compelling ideas to help foster access to and support for a thriving middle class in Utah.
THE 2019 CHALLENGE
The U's 2019 American Dream Ideas Challenge aims to find, fund and develop policy, technology and investable innovations that have the potential to increase net income by 10 percent for 10,000 Utah households by the end of 2022.
Although Utah's median household income (~$68,000) is relatively high and our unemployment rate is low, significant geographic, racial and ethnic disparities abound. For example, a growing number of Utahns are spending 50 percent or more of their income on housing. The 2019 challenge will give special consideration to proposals that focus on these disparities in our state.
Participants with the most compelling ideas will receive a total of $10,000 to $40,000 in funding from the University of Utah to research and develop their proposals. The top proposal will be eligible for up to $1 million from Schmidt Futures to implement the idea.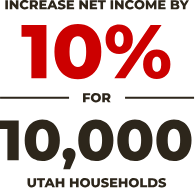 We are particularly interested in interdisciplinary solutions in the areas of housing, education, workforce development, transportation, health care and family support, such as child and elderly care.
We welcome proposals from individuals, organizations, and entities serving communities throughout the state of Utah. We seek to engage a broad range of perspectives and encourage ideas from community members, governments, nonprofits, business and thought leaders, as well as faculty, staff and students from universities and colleges across the state.
2018 CHALLENGE TOP TEAM
COAL COUNTY STRIKE TEAM
The Utah Coal Country Strike Team's multi-pronged proposal to improve financial prosperity in Carbon and Emery counties has received $900,000 in direct and matching funds from Schmidt Futures and the University of Utah.